Most of the following information is generally applicable, not just for our clients
First Steps
You have just bought a hosting account with your own domain name (yourdomain.com).
In order to setup all the services that come with your account (mail, ftp, database, logs etc), your providers will give you administrator access to a management system of their choice
Since we're using cPanel,this is what I will use in the following examples. But it also applies to DirectAdmin, Plesk or anything you happen to be presented with by your hosting company.
cPanel is the industry leading control panel that provides access to all your hosting account's settings in a nice graphical manner.
eMail account setup
Access your Evers Hosting backend by using the following URL: yourdomain.com:2083
(Other providers might use 2082 as the cPanel port. DirectAdmin uses 2222. Check the e-mail you received from your provider when you signed up.)
Locate the 'Mail' settings and choose 'e-Mail Accounts'.

Fill out the fields in the next screen…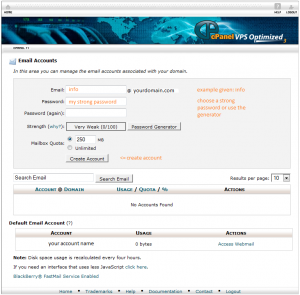 It's important to use a strong password. Please refer to this article so you know how to create a good one that's also easy to remember.
Are all the check-boxes green, and the password strength 100/100? Good, let's continue to how to access this new e-mail account from your computer, phone and tablet…
POP or IMAP
IMAP e-mail access coordinates between the server and your mail application. Messages that have been read/deleted/replied to will show up as such, both on the server and in the mail application of all your devices. Handy!

POP3 does not coordinate with the server. Messages marked as read/deleted/replied to in one location such as your computer will not show up as such on your other devices.
If you don't use the specific POP3 feature to leave messages on the server after retrieval, those messages will only be available on the device you received them on. Not Handy!
All outgoing mail is sent using the SMTP protocol.
Finally, we recommend using SSL/TLS since they provide increased security for your interactions with the remote mail server.
The Settings

Secure versus non-Secure
If you have your own SSL certificate, which can be obtained from Evers Hosting ($25/yr) you can use your own yourdomain.com as both the incoming- and outgoing server. The ports are the same, 993 for IMAP – 465 for SMTP.
You can freely use our SSL to secure your mail traffic with the above settings. Please adjust the server setting to the one your are hosted on.
At the time of writing there are 4 Evers Hosting servers. All named server1-, server2-, server3- and server4.evershosting.com.
IMAP versus POP3
POP3 only makes sense to me if you're using a single location where you receive and send your e-mails from.
WebMail Access
The final option is to use your browser to access your mails from all over the world.
You can do so using the following URL: yourdomain.com:2096
Again, these ports might vary for different hosting providers. Please contact them if you are unsure.
ALWAYS CLEAR BROWSER HISTORY AND COOKIES AFTER YOU USED A PUBLIC COMPUTER.
Keep your mail to yourself.
Thanks for reading. If you have any questions, please feel free to contact us.
Time to read some e-mail,
Cheers!